Thought id give this a try here in case any of yall want a frightstuff mask for a low price.......Part 9 custom painted frightstuff mask. Comes with COA and will be packaged back up in original frighstuff bag (they look cool so I do that for people who buy)
Price is $55 shipped. Thats super cheap for this kind of art work, I take days to finish these up.
Next is another custom mask..... Toxic part 8! This is also a frightstuff and comes with coa and original packaging.
This one is $70 shipped but ill except lower if needed. It has a nice silicone gel poured onto it for ''toxic waste'' it suits just fine.
And last is a jason vs hood, or could be part 8, any zombie jason. Its huge so displaying a sweet vs hock on it will look great because of his size in the movie. It is wearable and will fit you but it is on the larger size.
Hood is also $55 shipped!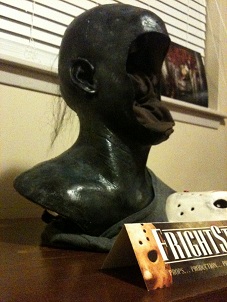 I need this stuff sold quickly as possible so help me out guys
Oh and if anybody has interest in classic and new wwe figures and etc. let me know. I have so much of that stuff boxed up that Ill be happy to sale.
And dvds if anybody wants lots of dvds for not lots of money
I have a whole bunch I can split up...all horror. Nightmare on elm street collection, halloweens, amittyville horror box set, lots and lots more.
PM with any questions or if you need more pics of a mask, PAYPAL ONLY
Money order under certain exceptions